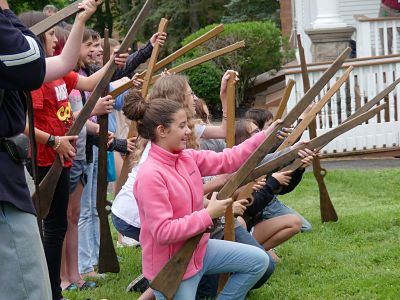 2019 Civil War Series with June 29 Trip to Gettysburg
Available to all Lawrence County 5th and 6th grade students. Registration required.
Our three-week Civil War Series (June 11 – 27) includes engaging re-enactors, interactive classes, and a June 29 trip to Gettysburg National Military Park for a personal tour of the Civil War battlefield.
Historical Society Forges Ahead with Civil War Series
New Castle, PA — The Lawrence County Historical Society (LCHS) has renewed its Civil War Series, embracing the mission to preserve, protect, and promote local history within our community. The Historical Society will host a three-week Civil War Series from June 11th to June 27th, 2019. The series includes engaging re-enactors, interactive classes, enjoyable experiences, and educational materials. In addition, the students and their guardians will travel to Gettysburg National Military Park on June 29th for a personal tour of the Civil War battlefield. We are happy to have Mr. Frank Lorello instruct the classes and share his 30+ years of experience teaching about the Civil War.
FEEDBACK from 2018 PROGRAM
The positive feedback from last year supported the idea for the program to continue. One participant remarked, "I hope that you continue to have this Civil War Series for years to come." Likewise, a parent stated, "I hope I get the opportunity to do [the Series] in the following years with my other kids." The program allows for students, volunteers, teachers, parents and guardians, and historians to collaborate in a pursuit of learning, significant to our region.
CIVIL WAR IMPACT ON LAWRENCE COUNTY
The Civil War greatly impacted Lawrence County. Foundationally, the community was a hotbed of anti-slavery sentiment and operated several hideaways for runaway slaves on the Underground Railroad. Moreover, this area had many devoted Lincoln supporters. As a result, one in five Lawrence County residents enlisted in service for the Union. Key locals formed two units "The Roundheads" and "Battery B" and saw action at the Second Battle of Bull Run, Antietam, Fredericksburg, Vicksburg, and — highlighted within the Series — Gettysburg.
REGISTRATION
Registration opens at 5 PM on April 1, 2019. All Lawrence County 5th and 6th grade students are encouraged to register. A cost is involved, but sponsors can help reduce the program fees. The $20 registration fee is waived for LCHS members. 
WANT TO SPONSOR A STUDENT or MULTIPLE STUDENTS? See details when you navigate to bit.ly/CWS-Sponsor. 
ADDITIONAL INFORMATION about the Civil War Series will be posted on this page when available (lawrencechs.org/civilwar).
Information from our past 2018 Event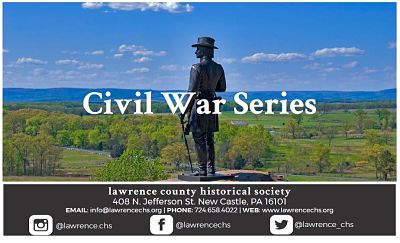 Entrance, by application only, was limited to 25 students. Our 2018 program was exclusively for 5th and 6th graders from the following schools. Each student was required to have a chaperon and was restricted to only one chaperon per student.
Ellwood City Area School District
Laurel School District
Mohawk Area School District
Neshannock Township School District
New Castle Area School District
Shenango Area School District
Union Area School District
Wilmington Area School District
2018 Learning Outcomes
By taking part in this class, students were be able to confidently state that they learned the following items:
Identify major themes of the Civil War
Recognize important people such as generals, soldiers, abolitionists, and many others
Understand the impact of the Civil War on the United States, both socially and politically
Identify major battles fought
Understand the significance of the Battle of Gettysburg
Recognize the global impact of the Civil War
Interpret the main ideas of both Confederate and Union supporters
Establish an understanding for the cause and effects of the Civil War on the United States in the 1800s
Learn about the equipment and weaponry a soldier would use during the Civil War
Experience first-hand the landscape and location of an actual Civil War battlefield